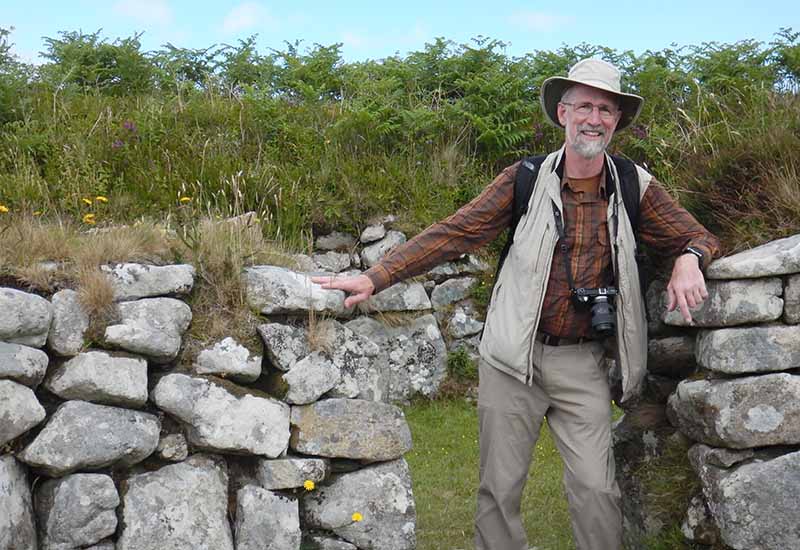 Common Places: Keywords for a More Than Human World
We invite you to join us for a one-day conference in honor of Professor Emeritus William Cronon, who held the position of Frederick Jackson Turner and Vilas Research Professor of History, Geography, and Environmental Studies at the University of Wisconsin–Madison before his recent retirement.
The gathering will feature a special keynote address by Cronon and presentations written in Cronon's honor by former students who earned a PhD under his guidance. Panel discussions will focus on the shifting cultural meanings of keywords that have guided their mentor's thinking about nature, space, and history, in the tradition of Raymond Williams' classic book Keywords: A Vocabulary of Culture and Society.
The conference will build on Cronon's work as a scholar, teacher, and writer to explore the many ways history and geography can serve as tools for understanding the past, present, and future of humanity.
More About the Conference
For many of Cronon's advisees, a formative moment came when they encountered in his seminar the classic book Keywords: A Vocabulary of Culture and Society by Welsh scholar and writer Raymond Williams, in which Williams explored the changing meanings of words that, in his view, had profoundly shaped political and social life in the English-speaking world.
In recognition of that moment, Cronon's former students are creating a similar volume featuring keywords—from "alien" to "energy" to "story" to "wonder"—that have guided their mentor's thinking about nature, space, and history. At the conference, presenters will discuss the essays they've written in Cronon's honor, while Cronon himself will end the afternoon by sharing his own thoughts about keywords that can open up fresh ways of thinking about a more-than-human world.
The conference has been organized by Karl Jacoby, Allan Nevins Professor of American History at Columbia University, and Susan Lee Johnson, Harry Reid Endowed Chair for the History of the Intermountain West at the University of Nevada, Las Vegas.
Conference Program
When you register, you can choose to attend the main conference, the keynote address, or both.
8–8:15 a.m.
Coffee
---
8:15–8:30 a.m.
Welcome
Anne Hansen, Chair, Department of History, University of Wisconsin–Madison
Susan Lee Johnson, University of Nevada, Las Vegas
Karl Jacoby, Columbia University
---
8:30–10 a.m.
Natives and Newcomers
Chair/Comment: Doug Kiel, Northwestern University
Alien, James W. Feldman, University of Wisconsin-Oshkosh
Pest, Dawn Biehler, University of Maryland, Baltimore County
Citizen, Daniel A. Grant, Writer
Pollution, David Stradling, University of Cincinnati
Boundary, Samuel Truett, University of New Mexico
---
10–10:15 a.m.
Coffee break
---
10:15–11:45 a.m.
The Wild and the Tame
Chair/Comment: Sarah Mittlefehldt, Northern Michigan University
Wilderness, Rachel S. Gross, University of Colorado Denver
Domestic, Flannery Burke, Saint Louis University
Stewardship, Lynne Heasley, Western Michigan University
Environmentalism, Jenny Price, Writer and Public Artist
---
11:45 a.m.–12:45 p.m.
Lunch on your own
---
12:45–2:15 p.m.
The City and the Country
Chair/Comment: Thomas G. Andrews, University of Colorado Boulder
City, William Barnett, North Central College
Country, Gregory Summers, University of Wisconsin-Stevens Point
Health, Christopher C. Sellers, Stony Brook University
Land, John Suval, University of Tennessee, Knoxville
---
2:15–2:30 p.m.
Coffee break
---
2:30–4 p.m.
A Storied World
Chair/Comment: Marsha Weisiger, University of Oregon
Animal, Kendra Smith-Howard, University at Albany
Human, Keith Woodhouse, Northwestern University
Science, Kevin Rozario, Smith College
Progress, Michael Rawson, Brooklyn College
History, Philip J. Deloria, Harvard University
---
4:30 p.m.
William Cronon's keynote address
"Looking Back on a Long Journey: People, Places, and Stories"
In this keynote, Professor Cronon will give us a sense of his path-breaking research in environmental history and the central role that storytelling plays in how he conceptualizes his work.
The keynote address can be viewed either in person at the Discovery Building or online. You can choose your participation preference when you register.
---
5:30 p.m.
Reception
Event Partners

Nelson Institute for Environmental Studies